We Are currently at Langenhoven Park Boeremarket 
on Saturdays and weekdays on the Farm
Lisianthus (maanblomme) and normal Boeremark bunch prices apply
R40 for short and R60 for taller bigger mixed bunches – ideal for functions.
We Specialize in Gerbera's & Lisianthus.   
We have been supplying fresh cut flowers to wholesale florists, the public
and to people doing weddings and other functions for over 10 years.
We specialize in mainly Gerbera's at the moment with over 8000 plants in production.
We currently have about 40000 Lisianthus plants planted.
We are approximately 25km from Bloemfontein town centre.
Please order well in advance of the Function.
To contact us call:
Jimmy 082 4312 752  or sms   Farm 051-443 8677   
Or Visit us on the Farm
Every Saturday at Langenhoven Park Stall 355
+_ 7am to 11 am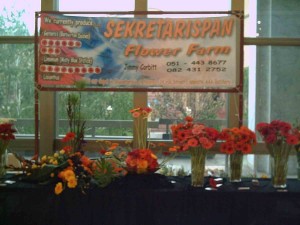 Thanks to all our past and present customers for their support over the years